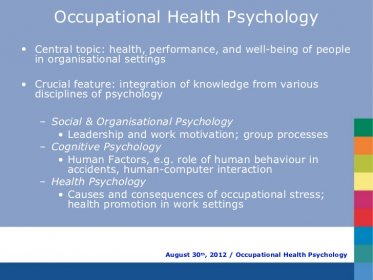 Home > Research > Areas of Specialization > Counseling Psychology : Occupational Health Psychology
The Department of Psychology offers a Supporting Program in Occupational Health Psychology (OHP) for Ph.D. students in psychology.
The OHP Supporting Program is relevant both for students interested in academic/ research positions and careers as applied practitioners.
The curriculum is designed to provide students with:
A core background of relevant theory and research in psychology.
Specialized knowledge in industrial/ organizational, vocational, and counseling psychology.
Interdisciplinary knowledge relevant to occupational health.
What is Occupational Health Psychology?
Occupational Health Psychology is an emerging field within the discipline of psychology. Broadly defined, OHP involves the application of psychological principles to improving the quality of worklife and promoting the safety, health, and well-being of people at work.
Researchers and practitioners in OHP work to identify the sources and consequences of stressors and/or dysfunctional behavior in the work place. Areas of study include:
Organizational and job design factors that contribute to illness and injury.
Training interventions that promote health and safety.
Non-work domains such as family responsibilities that influence worker well-being.
Individual characteristics such as abilities, values, and personality that contribute to occupational stress and/or dysfunctional behavior.
Organizational and individual responses to stressful workplace situations such as sexual harassment and violence.
The OHP Supporting Program (12-15 credits) curriculum includes interdisciplinary coursework that can be drawn from a variety of departments including Psychology, Occupational and Environmental Health, Speech Communications, Industrial Relations, Human Resources, Educational Psychology, and Kinesiology.
Psychology Requirements:
Vocational and Occupational Health Psychology (Psy 5501) is a course that provides students with an introduction to the psychology component and the psychological perspective within the field of occupational health.
The Vocational and Occupational Health Psychology Research Seminar (Psy 8544) focuses on current topics of interest to OHP researchers.
Source: www.psych.umn.edu
You might also like: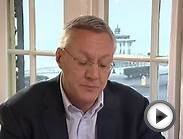 Occupational Psychology Issues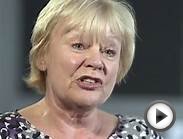 MSc Occupational Psychology and MSc Work Psychology at ...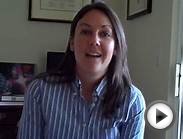 Occupational Health Psychology - September 2010